Why Some on Wall Street Want AT&T and Comcast to Spin Off Media Units
by Georg Szalai | HollywoodReporter.Com
Troy Warren #business-all

The conglomerates, whose biggest financial contributors are telecom assets, continue to bet on the benefits of owning content and distribution businesses, but "pure-play" companies have gained investor favor.
A Casablanca quote crossed WarnerMedia CEO Jason Kilar's lips during AT&T's March 12 investor day when touting the benefits of vertical integration, or housing content and distribution businesses under the same corporate roof: "It reminds me of that classic Warner Bros. line," he said. "It's the beginning of a beautiful friendship."
AT&T had closed the $85 billion takeover of Time Warner in June 2018, promising cost reductions — which deals typically bring — but also revenue synergies and other benefits. That vision brought forth HBO Max in May 2020, a streaming service that, together with HBO, boasts 41 million domestic subscribers but trails Disney+ in rapid growth and Netflix in total scale. "Approximately 25 percent of HBO Max's subscribers in the United States are via AT&T," Kilar pointed out, adding: "HBO Max is proving to be a factor in AT&T's consumer business — extended lifetimes, higher revenues, more efficient marketing."
With Hollywood and pay TV giants battling tech behemoths, gaining scale via mega-mergers has been a theme across the industry. The rationale: get bigger to have more leverage in network carriage negotiations and compete with the likes of Netflix and Amazon Prime. AT&T took a page from the playbook of Comcast, which houses Comcast Cable, NBCUniversal and Europe's Sky, combining content and distribution businesses.
But some on Wall Street aren't convinced that housing movie studios, networks and streaming services with telecom operations is the best move for either business or the stocks of the combined firms. "Pure content companies are commanding markedly higher premium-valuation multiples versus pay TV and/or wireless companies," says CFRA Research analyst Tuna Amobi. Put simply, says Pivotal Research Group analyst Jeff Wlodarczak, "Investors tend to prefer pure-plays" now.
One analyst, Wells Fargo's Steven Cahall, suggested on March 17 a spinoff of entertainment arm WarnerMedia from AT&T, as well as NBCUniversal-plus-Sky (even though Sky itself houses both content and distribution operations, which could make a separation more complicated or less clear-cut) from Comcast, and a merger of the two entertainment units, also noting "investor preferences for more-focused business models, and the industrial logic that arises from combining two big content libraries to better compete with Netflix and Disney."
Others, including MoffettNathanson's Michael Nathanson and LightShed Partners' Rich Greenfield, have suggested the same. Wrote Cahall, "While each Comcast business is good, we believe it would be a much better stock if they were apart."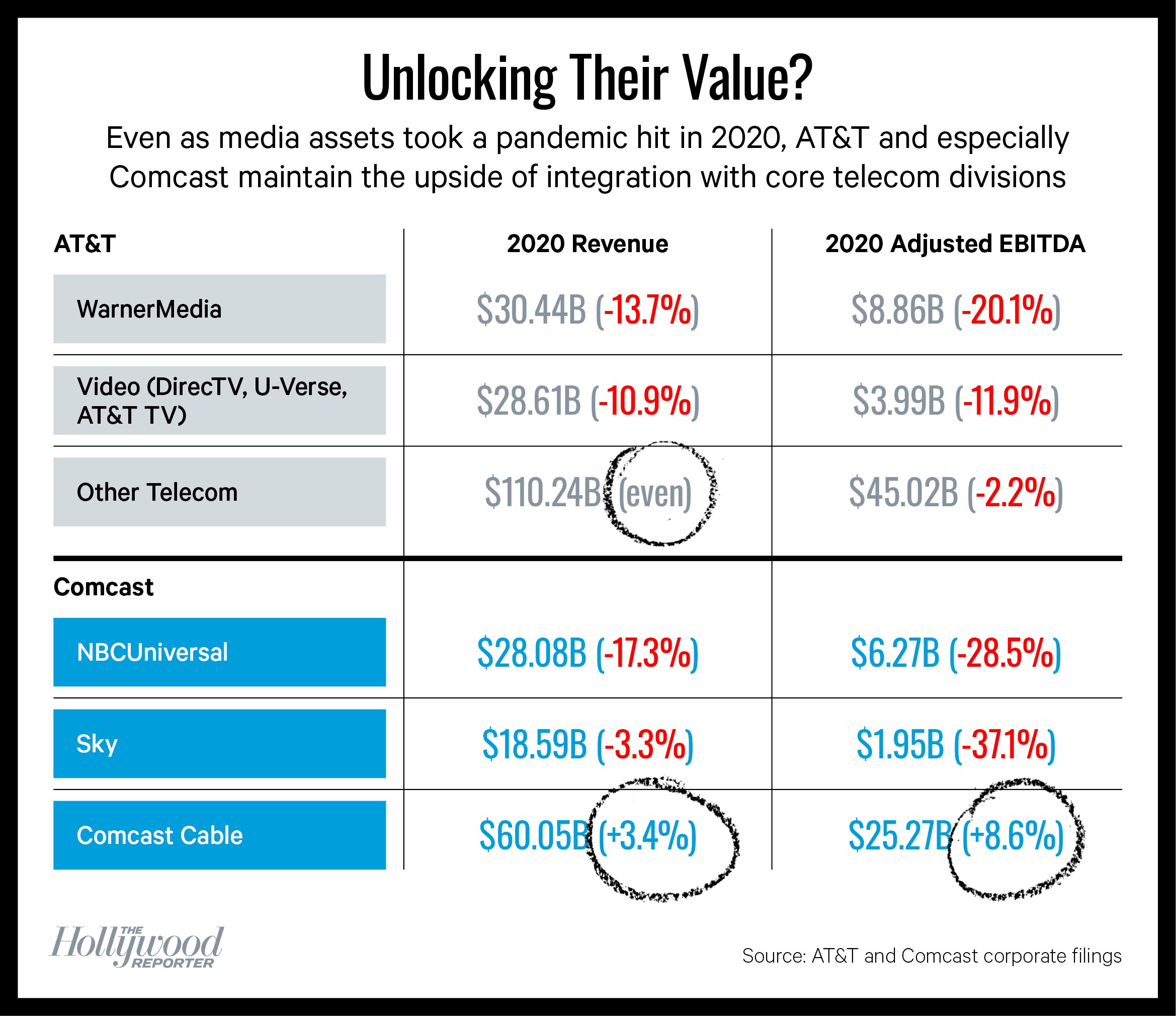 Critics of vertical integration argue stock performance is often held back by a "conglomerate discount" of 10-15 percent that investors put on stocks of giants that can't focus all their energy and investment on one sector. Another argument is that focused firms have an easier time making investment decisions since their units don't play in different businesses with diverging interests. But at conglomerates, units are often seen as competing for money; those facing challenges often don't get the same resources given worries about the return on invested capital, which only further weakens them, the argument goes.
In some observers' minds, the concept of vertical integration also invokes bad memories of the much-maligned AOL-Time Warner merger in 2000, which has been called the worst deal ever and never delivered much-touted synergies from legacy studios with internet brands. After focusing Time Warner on its entertainment assets and selling it to AT&T in 2018, former CEO Jeff Bewkes later went so far as to describe vertical integration as "a fairly suspect premise" a year later. Bewkes and others argue that, rather than having a hand in both sides of the business, companies can simply strike deals to ensure access to content or distribution. "You could strike a commercial arrangement for most of the things that get touted as synergies without having to buy the company," Moody's analyst Neil Begley says. For instance, ahead of the November 2019 launch of streamer Disney+, Verizon struck a deal with Disney to offer the service to some of its subscribers for free for a year.
Verizon itself marks a case study in a sometimes awkward pairing of wireless businesses with media assets. With an eye toward boosting its mobile video strategy, the telecom giant went on a buying spree of internet giants, snapping up AOL in 2015 for $4.4 billion and Yahoo for $4.5 billion two years later only to reverse course and take a $4.6 billion writedown on its media business in 2018 over what it disclosed as "lower than expected benefits from the integration of the Yahoo Inc. and AOL Inc. businesses." Last November, Verizon sold its HuffPost news brand to BuzzFeed as it scales back its media ambitions.
For now, big media spinoffs are pure proposals made by analysts though. AT&T and Comcast have not expressed any public interest in spinning off or merging their media assets, which would be an abrupt reversal from their strategies to-date, including their investments in streaming services that management teams have described as an example of the success of operating content and distribution assets.
And Comcast has shown vertical integration can be managed successfully, with chairman and CEO Brian Roberts recently touting NBCU's financial growth in every year since Comcast acquired a majority stake in it in 2011, before buying full ownership, except for 2020, the novel coronavirus year.
Focusing on collaboration between units for key priorities like the Olympics with an approach it calls Project Symphony, management has also touted the benefits of working on different sides of the business, doubling down on that playbook when taking over European pay TV and content powerhouse Sky in 2018. It has also stuck with its promise of doubling Sky's 2020 EBITDA over the next several years. Comcast leaders have repeatedly lauded how the company used Sky technology to launch NBCU streamer Peacock, and give it a strong start in Comcast Cable markets, as an example of how operating content and distribution businesses under the same corporate umbrella can benefit both businesses.
"We have scale," Roberts said during an investor conference in March. "We have 57 million customers who pay us $100 or more per month." And he has said that "we've put together a unique company" that now calls itself "a global media and technology company that connects people to moments that matter." Comcast's three focus areas are now broadband, aggregation and streaming, and "we're really a leader in all three," said Roberts.
The analyst community also has largely been high on Comcast and its stock. "Comcast provides a much better case study, in contrast with AT&T, regarding the potential merits and economics of scale emanating from the successful execution of vertical integration," Amobi says. Bank of America Merrill Lynch analyst Jessica Reif Ehrlich recently reiterated her "buy" rating on Comcast in a report called "Preparing for Flight," which highlighted that NBCU should return to growth mode this year following last year's pandemic hit. Credit Suisse's Douglas Mitchelson also recently boosted his stock price target by $6 to $67 with an "outperform" rating, and Morgan Stanley's Benjamin Swinburne argued that Comcast shares "stand out as particularly compelling."
Meanwhile, Wall Street observers have expressed doubts that debt-laden AT&T will be able to run its businesses as effectively as hoped, describing its stock more of a show-me story. Bernstein's Peter Supino recently wrote: "AT&T will be making hard choices about investment while using all cash flow in excess of its dividend to pay down debt for many years."
But some say disentangling WarnerMedia of NBCU from the giants they are part of would also be harder than many think. "It is easy for analysts to propose these splits," says Hal Vogel, CEO of Vogel Capital Management and a former Wall Street analyst. "These are complicated companies, and it is not easy to break them apart. How much do you lose by selling? Do you really unlock the value?"